Quaker Street Coffee & Bubble Tea isn't your average cafe. You'll find them in the heart of Shoreditch, but they're really situated at the intersection of art, music, and locally sourced sips and eats. I dropped by to learn more about their mission to serve and support the local community.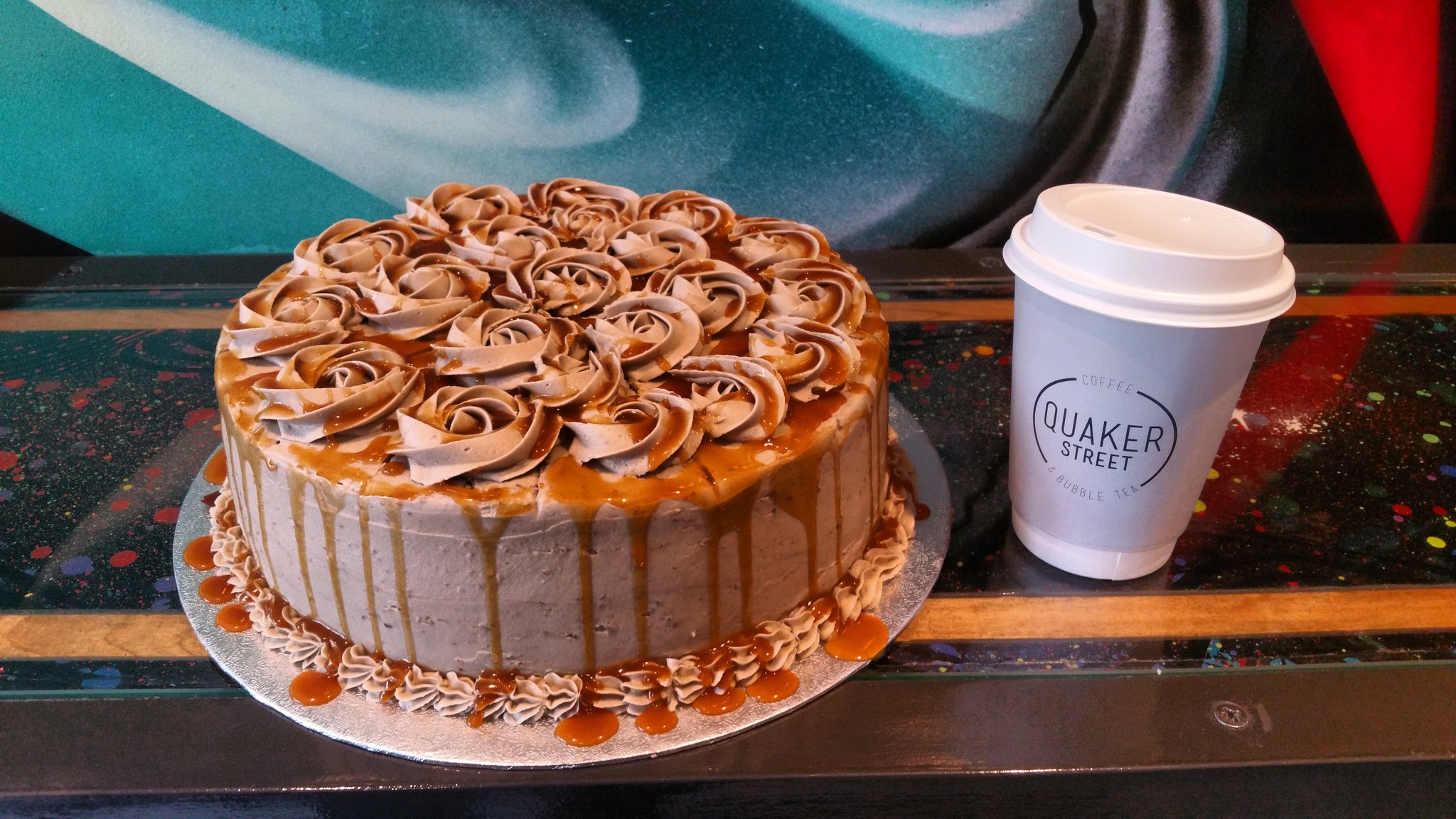 How did Quaker Street come about?
We had an idea about making a creative space where we get coffee, art, music and create a lifestyle around people that enjoy that. We wanted it to be a purely East London concept, so everything we stock in our store helps the community–we use local, small, independent brands. And the idea was just to have fun.
When we first started out there was a lot of skepticism from our community especially because artists told us they had previous experience where commercial entities used their services without giving them a fair deal. We've come along and we've approached things in a different way, which has created an amazing relationship with artists, which in turn has created a lot of amazing work and positive energy. And that is felt across all our customers–the passion and drive to go forward.
What attracted you to East London?
That's really simple, because both of us were born in Mile End and we lived in Bethnal Green for our whole lives. So having a cafe in East London was wasn't really a choice, it just made sense.
Are there any particular local businesses that have supported you that we could give a shout-out to?
They're all equally great, so I don't want to single one out. What's important is that we choose these brands because they take pride in what they do. What that does is create a quality product, and we also have a close relationship with them, which means the customer has a better experience.
Why did you join Colu?
For us Colu was quite a funny experience, because when we first opened, our priorities were to get the store up and running. One of our customers, she's good friends with the guys at Colu, she introduced us to Colu, and we decided to pause and to revisit it when we have time. And then Colu came back again and we found that quite impressive because they gave us space, knew when we were ready, came back to sit and talk and we understood what the app is about and it echoed with what we are doing. It was a natural decision to join.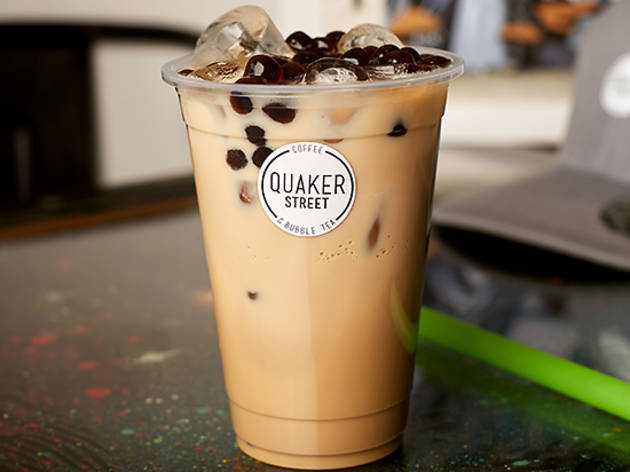 What does the future look like for Quaker Street?
The future looks really good. Being a small business has its ups and downs, but we're really excited about Quaker Street Cafe making music. We're releasing a series of four music EPs. The first is coming out on the 30th of November. The idea is we want to help and nurture new people in the music industry–not just musicians but composers, sound engineers, people that blog about music too– and create future role models. We don't take on musicians just because they're good at what they're doing, we take them on if they have a good moral-standing.
We're also looking at doing bigger and better exhibitions. In the future, we would probably like to have a bigger and better space where we're doing multiple events at one time. In the six months we've been here, we've already hosted five exhibitions. And the next exhibition is on the 2nd of November. It's our first group show exhibition where there will be multiple artists coming in and we're really proud of that.
Each exhibition is hosted with an opening night, we have a DJ come in from Hoxton FM. We also help street artists. We find legal spaces that are around East London where they can go and paint. We believe what makes us special is that relationship we have with the creative community, it's not just about giving them money and supporting them that way–we give them a platform where they can showcase their work and we take them under our mentorship so we can give them advice on how to run as a freelancer and finding relationships they can build with other partners.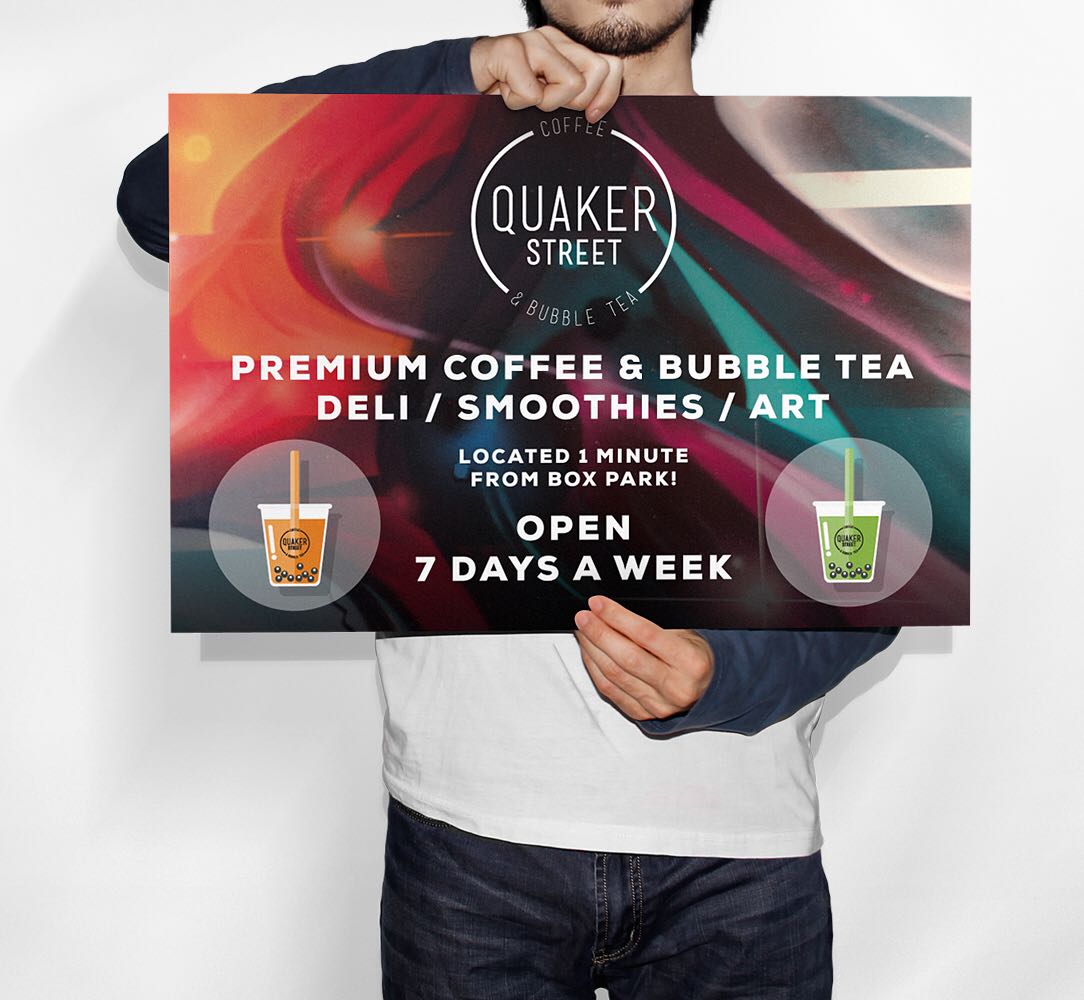 Whether you're into great coffee or supporting the local cultural scene, Quaker Street has it all. In the meantime, check out their new album!